MA student Farbod Eslami Khouzani receives this year's DAAD Prize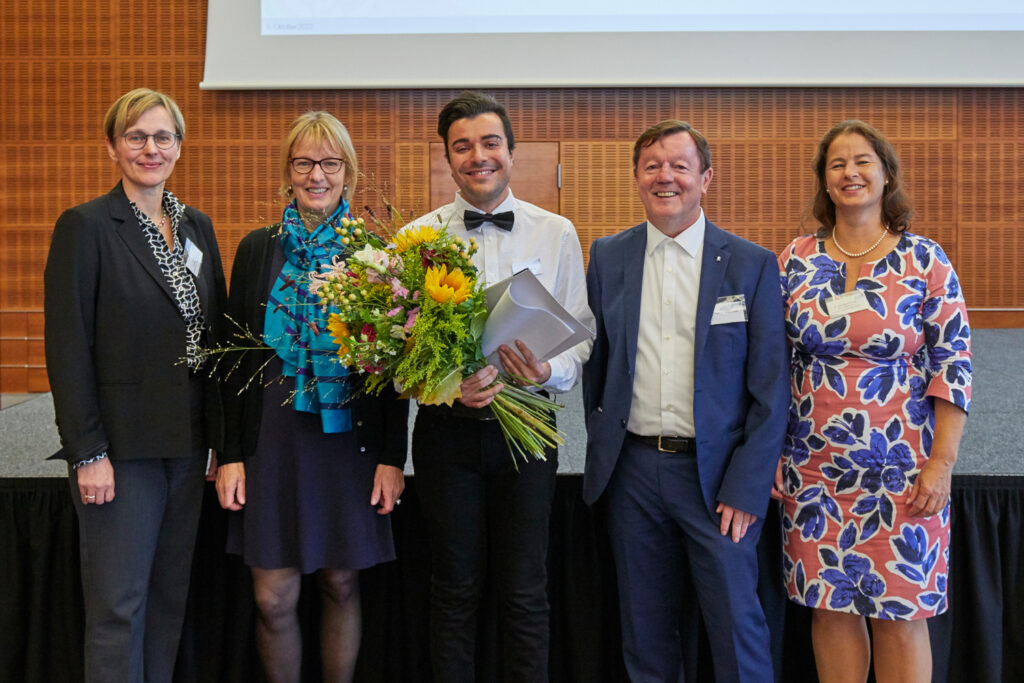 The MA linguistics student Farbod Eslami Khouzani (picture, middle) received this year's DAAD Prize for international students on October 5th, 2023. His outstanding academic achievements as well as his social commitment were recognized. We congratulate him! More information
Prof. Katharina Hartmann and Prof. Frank Kügler nominated for the best doctoral supervision
The Goethe Research Academy for Early Career Researchers (GRADE) awards a prize every year for the best doctoral supervision. This year, two of the professors from linguistics have been nominated: Prof. Frank Kügler and Prof. Katharina Hartmann. More information
AG at the DGfS 2024 by Sascha Alexeyenko and Katharina Hartmann
At the 46th Annual Meeting of the DGfS (Bochum, February 28th – March 1st, 2024) Sascha Alexeyenko and Katharina Hartmann organize a workshop on Constraining Linearization. The Call for Papers runs until August 10, 2023.
Seunghun J. Lee (Christian University, Tokyo) as 2022's guest professor
In the MA Programme "Linguistics", he will teach a course on "Prosody-Syntax-Interface: Theoretical and practical applications" – and everybody is welcome to participate. Registration for the course is via Olat. Here is the link to his class.
Seunghun will be here the whole month of July. He is more than happy to discuss linguistic issues with colleagues and students. If anybody is interested in meeting him, just send him an email to 
s.lee@em.uni-frankfurt.de
He can be reached in person in office IG 4.315.
Workshop at the DGfS 2023 by Kathryn Barnes and Aleksandra Cwiek
At the 45th annual meeting of the  DGfS (Cologne, March 8-10 2023), Kathryn Barnes and Aleksandra Cwiek will host a workshop on Workshop on ideophones and lexical iconicity. 
Hinweise zu der Orientierungswoche im SoSe 2022
Material zu den Orientierungsveranstaltungen Lehramt Deutsch/Germanistik:
https://olat.server.uni-frankfurt.de/olat/auth/RepositoryEntry/9647652871/CourseNode/102531187483954
Studiengang BA Germanistik
Datum
Zeit
Veranstaltung
Raum
Person(en)
04.04.2022
10-12
Eröffnungsveranstaltung
Cas 823
verschiedene
12-14
Informationsveranstaltung zu Studienorganisation und -verlauf
SH 0.109 (Für Nachnamen mit A-M)
Prof. Dr. Jörg Schuster
SH 0.101 (Für Nachnamen mit N-Z)
PD Dr. Gerrit Kentner
14-16
Studienberatung
t.b.a.
t.b.a.
07.04.2022
17:00
Campus-Führung
Teich vor dem IG-Farbenhaus
Institutsgruppe KJL
18:30
Pub Quiz (Anmeldung alleine oder in Teams bis 5 Personen und Raumdetails an kjlstudisffm@gmail.com oder über Instagram @kjlstudisffm)
 
Institutsgruppe KJL
Studiengang MA Germanistik
Datum
Zeit
Veranstaltung
Raum
Person(en)
04.04.2022
10-12
Eröffnungsveranstaltung
Cas 823
verschiedene
14-16
Informationsveranstaltung zu Studienorganisation und -verlauf
SH 0.104
Prof. Dr. Jörg Schuster
Studienberatung
t.b.a.
t.b.a.
07.04.2022
17:00
Campus-Führung
Teich vor dem IG-Farbenhaus
Institutsgruppe KJL
18:30
Pub Quiz (Anmeldung alleine oder in Teams bis 5 Personen und Raumdetails an kjlstudisffm@gmail.com oder über Instagram @kjlstudisffm)
 
Institutsgruppe KJL
Studiengang Lehramt Deutsch L1
Datum
Zeit
Veranstaltung
Raum
Person(en)
04.04.2022
10-12
Eröffnungsveranstaltung
Cas 823
verschiedene
12-14
Informationsveranstaltung zu Studienorganisation und -verlauf
SH 0.107 (Für Nachnamen mit A-M)
Dr. Iris Schäfer
SH 1.107 (Für Nachnamen mit N-Z)
Anna Roth, M.A.
14-16
Studienberatung
t.b.a.
t.b.a.
07.04.2022
17:00
Campus-Führung
Teich vor dem IG-Farbenhaus
Institutsgruppe KJL
18:30
Pub Quiz (Anmeldung alleine oder in Teams bis 5 Personen und Raumdetails an kjlstudisffm@gmail.com oder über Instagram @kjlstudisffm)
 
Institutsgruppe KJL
Studiengänge Lehramt L2, L3, L5 / WiPäd
Datum
Zeit
Veranstaltung
Raum
Person(en)
04.04.2022
10-12
Eröffnungsveranstaltung
Cas 823
verschiedene
12-14
Informationsveranstaltung zu Studienorganisation und -verlauf
SH 0.105 
Dr. Petra Heyer
14-16
Studienberatung
t.b.a.
t.b.a.
07.04.2022
17:00
Campus-Führung
Teich vor dem IG-Farbenhaus
Institutsgruppe KJL
18:30
Pub Quiz (Anmeldung alleine oder in Teams bis 5 Personen und Raumdetails an kjlstudisffm@gmail.com oder über Instagram @kjlstudisffm)
 
Institutsgruppe KJL